Registration for our 2022-2023 Faith Formation year is only open from July 1 – 31.
Please contact the office if you have a question about the registration process.
If you need to Register for High School Youth Ministry

Thank you to all who registered.
The new schedules and other updated information for the new school year is forthcoming.
We will be offering a hybrid faith formation program, consisting of:
Virtual sessions
On-site sessions
Sessions for the entire family
Sign-up for becoming a Catechist is now Open. Please contact Mike Baker: mbaker@st-isaac.org or (407) 249-0906 for more information.
PREP Policies
Ground rules for Virtual Sessions
Schedule a space and timeframe away from distractions.
Do not multi-task during the session.
Do not 'ghost-attend' – where the student joins the session, but turns their camera and microphone off, and does not participate in the class. Students who do this will be marked 'Absent' from the session.
We strongly discourage signing in to a St. Isaac Jogues virtual Faith Formation session while driving/riding in a car. It is unsafe, and an ineffective way for the student to receive the St. Isaac Jogues Faith Formation program.
If technology is a challenge and you need assistance, please reach out to your catechist.
Related Sites
We are pleased to announce that this year we will be leveraging the Symbolon Program to continue the education of Catholic adults in their knowledge of Church doctrine, dogma, mission and teachings!
What is Symbolon?
Symbolon will lead you through the "big picture" of the Catholic Faith, with our Creed as the guide. Symbolon brings together some of the most trusted Catholic teachers in the world to guide you through the breadth and richness of the Catholic faith. Symbolon is recommended for use in RCIA, for Catechist training, in Men's & Women's Groups, Bible Study Groups and more.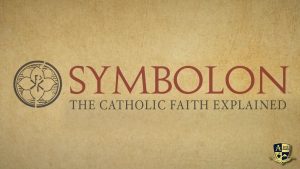 We will be offering a hybrid faith formation program, consisting of:
Virtual sessions
On-site sessions
Sessions for the entire family
St. Isaac Jogues has many different programs to help prepare candidates and their families for celebrating the Sacraments. Please be aware that Sacramental Catechesis is separate from our Parish Religious Education Program (P.R.E.P.). This separation is practiced all over the dioceses in Florida and the Catholic Church in the United States.
Confirmation eligibility requirements
Passion. Commitment. Discipleship.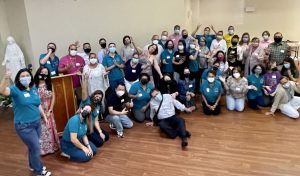 From teaching in either virtual of in-person classrooms, to assisting the Faith Formation Office and the PREP and Sacramental Preparation Coordinators, to performing administrative tasks, to being a digital helper, there are countless ways to support our Faith Formation Ministry.
Please prayerfully consider becoming a St. Isaac Jogues catechist. The blessings on this ministry abound!
Did you know that no one is born Catholic? If you have never been baptized, you may wish to explore becoming a Catholic.  This process is known as the Catechumenate, starts in the Fall of every year and it moves in stages or steps toward Lent and the Easter Vigil when Baptism is celebrated.
Someone baptized in a Christian church may now wish to be a Catholic. A group similar to the Catechumenate receives instruction, guidance, and support. Reception into the Church usually also takes place at the Easter Vigil.
A baptized Catholic may discover that they have yet to receive the other sacraments of initiation, such as Confirmation and Eucharist. The person may also realize that they have missed essential religious formation and may now desire to continue the growth that all Catholics should experience. Throughout the year, the parish offers series and sessions for such adults.
In all cases, begin by contacting Mike Baker.
Come home!
Commission/Reimaging Committee (CRC)
The St Isaac Jogues Faith Formation Commission established the Reimagining Committee to gather data and conduct research to assist in the planning and implementation of the 2020 and beyond Faith Formation Program.
Accomplishments of the Reimagining Committee so far:
Surveyed SIJ Commission leaders and met with over 50 catechists
Consulted with our parish pastor on the new Virtual program for catechist/student sessions
Selected a new curriculum (K-8): Loyola Press "Finding God/Encontrando a Dios"
Leveraged the SIJ YouTube channel for faith formation
Successfully executed the fully virtual 2020-2021 Faith Formation Program
Successfully deployed the 2021-2022 hybrid Faith Formation Program
"Faith is what gets you started. Hope is what keeps you going. Love is what brings you to the end."

Mother Angelica
Frequently Asked Questions (FAQs)
* Updated August 30, 2021
How do I register my child for Sacramental Preparation?
The Faith Formation and Sacramental Preparation programs run from September – May, concurrent with the school year. Registrations occurred online only from May – July.
Someone told me that my child must have two years of faith formation before they can receive their First Holy Communion. Is this true?
To receive their first Reconciliation and first Holy Communion, the church teaches that the person must be baptized and has reached the age of reason (usually 7 or older and in 2nd grade or higher.) The person should also be formed in their faith before they begin Sacramental Preparation. Our parish, along with most others, requests that the person completes at least one year of formal Faith Formation, either at a Catholic parish or at a Catholic school.
Are Faith Formation classes offered in person?
For Faith Formation Year 2022-2023, we will offer classes both in person and virtually. Please review our Parent Resources Page for class times.