Our Goal
To connect young adults with Jesus Christ through spiritual formation/direction, religious education/formation, and vocational discernment.
To connect young adults to the Church through evangelizing outreach, formation of the faith community, and pastoral care.
To connect young adults with the mission of the Church in the world through forming a Christian conscience, educating and developing leaders for the present and future.
To connect young adults with a peer community through developing peer leadership and identifying a young adult team for the purpose of forming faith communities of peers.
Challenges:
Young adults have been captivated by the consumerism and materialism of the society in which they grew up and have became apathetic and cynical.
Young adulthood is sometimes a world of boredom, disillusionment, and indifference to the Church.
Young adults need a non-threatening place where they can freely express their questions, doubts, and even disagreements with the Church and where the teachings of the Church can be clearly articulated and related to their experience.
Young adults make some of the most important decisions in their lives about their Christian vocation, their career, and their choice of spouse.
How to Join
Are you a young adult? Then simply show up! We do really encourage you to take the risk to be part of something great. We welcome you to a judgment free zone in which together we will be molded into soldiers of Christ.
Our Vision
St. Isaac Jogues young Adults Ministry is a ministry dedicated to bring young adults closer to the Heart of the Church. To that end, we commit to:
Be a productive ministry in the St. Isaac Jogues' parish community in which young adults can learn more about their faith,and share one's own ideas and beliefs.
Be a source for those young adults that thirst and hunger to do more by providing a place filled with young adults of various walks of life that builds a strong relationship and sense of worth.
Provide social environments for young adults to live our faith free from external influences.
Practice habits that lead towards a better relationship with God.
Involve more praise and worship and Holy hour adoration of the Blessed Sacrament.
Core Team:
Gabriela Lebron
Luis Gonzalez
Carla Martinez
Bradley Ortiz
Daniella Eslava
Meetings:
Sundays at 7:30 p.m. to 9:00 p.m in Modular D
Feel free to contact us via email: newyouth@st-isaac.org or yasiministry01@gmail.com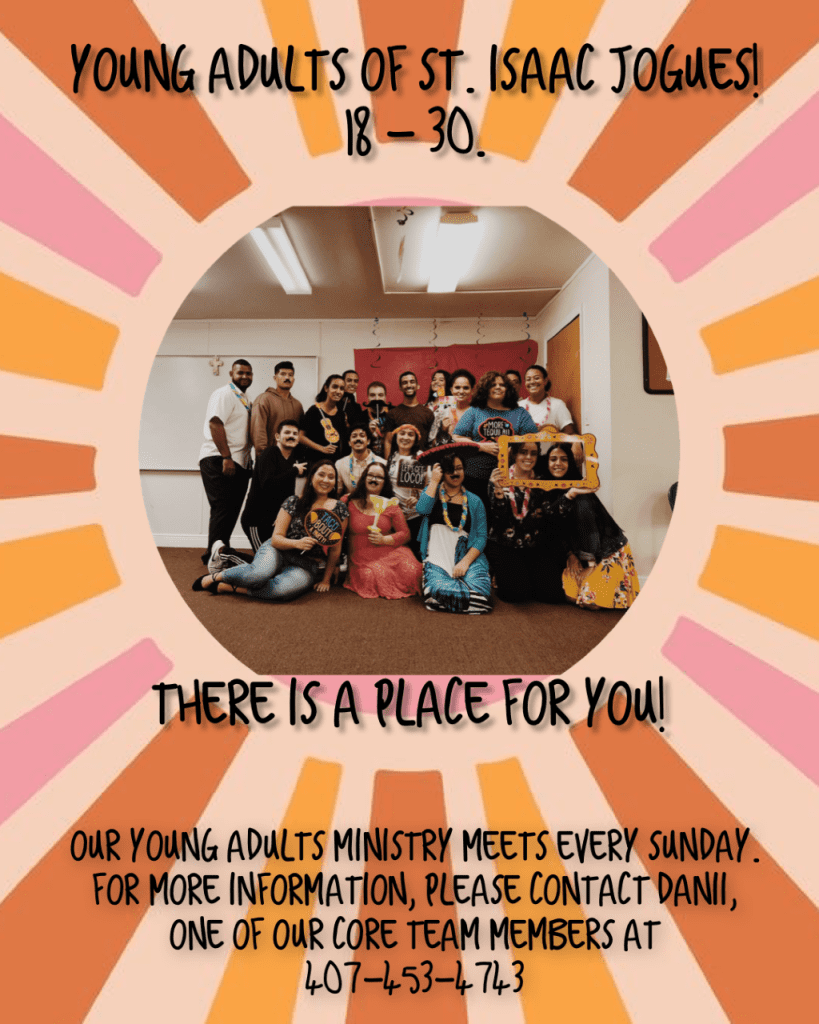 Here is a video of some activities that the Young Adults have done in their previous years, Enjoy!
Click an image to enlarge it